भारतीय स्टेट बैंक की नई पहल
SBI YONO – आपके खाते भारतीय स्टेट बैंक में है ! लेकिन आपके पास न तो एटीएम कार्ड हे और न ही आपका खाता आधार से जुड़ा हुआ हे
एसबीआई की पहल से अब ग्राहकों के लिए CARDLESS CASH WITHDRAWAL की सुविधा दी गयी हें जिसके माध्यम से अब आप कोई भी एसबीआई के ग्राहक सेवा केंद्र पर जाकर withdrawal कर सकते हें
आइए जानते हें YONO CASH WITHDRAWAL किस तरह काम करता हें
इसके लिए सबसे पहले ग्राहकों को SBI INTERNET BANKING FACILITY के लिए पंजीकृत करना पड़ेगा जो दो तरीके से किया जा सकता हें
पहला तरीका ऑनलाइन है – जिसके लिए ग्राहकों को अपनी एटीएम कार्ड विवरण, खाता पासबुक विवरण                       
और पंजीकृत मोबाइल नंबर का उपयोग करके कर सकते है
दूसरा तरीका ऑफलाइन है – ग्राहक  अपने एसबीआई शाखा में जाकर यह सुविधा प्राप्त सकते है
SBI INTERNET BANKING FACILITY  प्राप्त हो जाने के पश्चात, ग्राहकों को अपनी मोबाइल हैंडसेट (स्मार्टफोन) पर YONO SBI  नामक एप्प को डाउनलोड और इंस्टॉल करें और YONO SBI ऐप में लॉगिन करने के बाद, निकासी अनुरोध की प्रक्रिया को ऑनलाइन पूरा करे।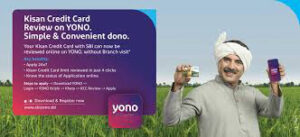 YONO APP में निकासी अनुरोध की प्रक्रिया पूरा करने के दौरान, 6-अंकीय YONO CASH पिन बनाएं और पूरा प्रक्रिया समाप्त होने पर, पंजीकृत मोबाइल नंबर में एक 6-अंकीय संदर्भ संख्या प्राप्त होगी।
किसी भी एसबीआई ग्राहक सेवा केंद्र पर जाएं और माइक्रो एटीएम में 6-अंकीय संदर्भ संख्या दर्ज करें, जिसके बाद 6-अंकीय YONO CASH PIN दर्ज करने पर नकद निकासी का लेनदेन पूरा हो जाएगा और KIOSK OPERATOR से आपको CASH प्राप्त हो जायेगा
SBI YONO –
न्यूनतम नकद निकासी राशि रु 500/- है और अधिकतम नकद निकासी की राशि प्रति दिन 20000 / – रुपये प्रति खाता है
(एकल लेनदेन में अधिकतम नकद निकासी रु 10000 / – है)
SBI YONO – YOU ONLY NEED ONE
Its nothing but YONO
SBI YONO – Don't have ATM Card? Don't have Aadhaar Seeded Account?
No need to worry about.
 SBI brings
CARDLESS CASH WITHDRAWAL FACILITY
 Register for SBI INTERNET BANKING FACILITY
(Registration Can be done
Either Online using ATM Card Details, Account Passbook Details and with Registered Mobile Number
OR
Offline by physical visit to SBI HOME BRANCH)
Followed by
 Download and Install YONO SBI in Mobile Handset (Smartphone) and after login to SBI YONO app, Submit Withdrawal Request.
SBI YONO – During submission of withdrawal request in YONO APP, create 6-digit YONO CASH PIN and on successful submission of withdrawal request, a 6-digit Reference Number will be received in registered mobile number, both are valid for 2 hours.
Thereafter, visit any Customer Service Point and enter Reference Number in MICRO ATM, followed by entry of 6-digit YONO CASH PIN and thus Cash withdrawal transaction completed. Collect CASH from KIOSK OPERATOR
Note: Minimum Cash Withdraw amount is Rs 500/-
          Maximum Cash Withdrawal amount is Rs 20000/- per account per day          
   (Maximum Cash Withdrawal in a single transaction is Rs 10000/-)
Security Tips: Never Share Username, Password, OTP and other sensitive information related to account to any individual under any circumstances. This may result in Financial Loss. So be remain alert and continue doing happy digital transactions.
सुरक्षा के मद्देनजर : किसी भी परिस्थिति में किसी भी व्यक्ति को खाते से संबंधित उपयोगकर्ता नाम, पासवर्ड, ओटीपी और अन्य संवेदनशील जानकारी कभी साझा न करें। इसके परिणामस्वरूप वित्तीय हानि हो सकती है। इसलिए सतर्क रहें और खुशहाल डिजिटल लेनदेन करते रहें।