Election Code of Conduct in India
In India, with the announcement of the Dates of Election, Election Code of Conduct also comes into force. Election Commission declared Election Dates for four states and one union territory of India. With this, the Election Code of Conduct has come into force. Announcement of Election Dates, implementation of Code of Conduct and conduct of Election in a peaceful manner are the responsibility of the Election Commission. There will be election in four states and one union territory in India in the beginning of the year 2021.
Election Commission announced to conduct eight phases of voting in West Bengal. Voters will exercise their right to vote in West Bengal on 27th March 2021, 1st April 2021, 6th April 2021, 10th April 2021, 17th April 2021, 22nd April 2021, 26th April 2021 and 29 April 2021.
There will be three phases of Voting in Assam. Voters in Assam will exercise their right to vote on 27th March 2021, 1st April 2021 and 6th April 2021.
The Date of Election in two states (Tamil Nadu, Kerala) and one Union Territory (Puducherry) 6th April 2021. In these two states and one union territory, voters will be able to exercise their right to vote in a single phase only.
Counting of Votes and Declaration of election results will be on 2nd May 2021.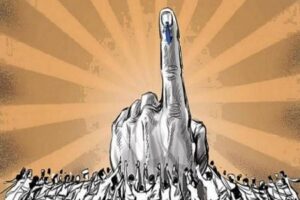 What is Election Code of Conduct and what is the reason for its implementation?
The Code of Conduct contains certain rules framed by the Election Commission of India. These rules are implemented only with the announcement of election dates. The implementation of Election Code of Conduct is to ensure the peaceful activities of all political parties, candidates and supporters . This proves to be very helpful in conducting the elections peacefully. After the Code of Conduct comes into force, all political parties, candidates and supporters have to accept it. On violation of code of conduct, then the Election Commission has the right to take action against him or her. Violation of the code of conduct may also lead to lodge of an FIR and imprisonment if found true. Provision of lodge of complaints related to violation of the code of conduct is also available during these periods.
The election code of conduct has been implemented as soon as the dates for the elections in States and Union Territories are announced. The Election Code of Conduct means the instructions of the Election Commission, which are to be followed by every political party and its candidate until the election is over. If a candidate does not follow these rules, the Election Commission can take action against him or her. He or she can be prevented from contesting elections and an FIR can also be filed against the candidate. As soon as the election code of conduct comes into force, the powers of government and the administration are in suspension mode till completion of election. Government employees have to perform their duties under Election Commission employees till the completion of the election process and work as per the enforced guidelines.
Do's and Don'ts during Election Code of Conduct
As soon as the code of conduct comes into force, the Chief Minister or the Minister of the state cannot make any announcement to the public. During this time, there is strict restriction of laying of foundation stone, ground worship, etc.  in anywhere. There will not any such arrangement  with government expenditure that will benefit any particular party. During the election campaign any political party and their candidate needs to get permission before using loudspeakers. With the grant of permission by Police Administration only, any political party, candidate, politician can hold a rally, . Its purpose is to maintain a effective system of security coverage during the rally. In any rally, no one can ask for votes in the name of religion.
The most important instruction of code of conduct is that candidates cannot offer any kind of gift to the voter. Often, there is always an intention to present some kind of gift along with liquor and money to attract voter. It is a total violation of election code of conduct. There is also restrictions to use  government vehicles, government aircraft, government bungalows etc. for election campaigning. On election day, candidates cannot show their political party symbol around the polling station. No one can enter a polling station without a valid PASS (PERMIT) given by the Election Committee.
Choose the right candidate by giving your valuable vote so that the country's progress continue.
The content of this post is available in Hindi Language. Please click here to read